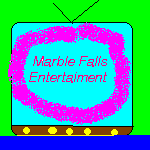 Marble Falls Entertainment
There are many things that will entertain you in Marble Falls.
There is the TV station that gives you the weather
and what's happening in the area.
KXAM-14 Hill Country Report
The radio stations give you music to listen to and dance to.
Here are some of the performers
in our town or from our town.
Music Wish Showcase: Larry Jackson
Created by: team#19
Date created: 3-29-99